How to insulate your loft with natural insulations
Friday 9th September 2022
How can recycled wood chips, carbon negative hemp and recycled coffee and cocoa bean sacks help keep you warm and reduce your carbon footprint? The answer is: loft insulation!
Loft Insulation - the low hanging fruit!
When it comes to insulating your house, attic or loft insulation is widely regarded as low hanging fruit. Relatively speaking - it's quick and easy to install, low cost and a reasonably simple DIY project. Furthermore, the benefits are considerable, with noticeable improvements in home comfort alongside significant reductions in the amount of heat and money lost to the sky. It will also have a positive environmental benefit in reducing the property's energy and carbon footprint – especially if the loft insulation used is made from plant-based fibres which have absorbed or sequestered CO₂ from the atmosphere as they grew via photosynthesis.
The proportion of heat lost from a typical poorly insulated home is as follows:
Up to 26% through the roof.
Up to 33% through external walls.
Up to 21% through doors and windows.
Up to 6% through ground floors
Up to 12% through ventilation and draughts*
Based on data from Energy Saving Trust.
*Draughts account for heat loss throughout the building, not just where indicated on Fig. 1.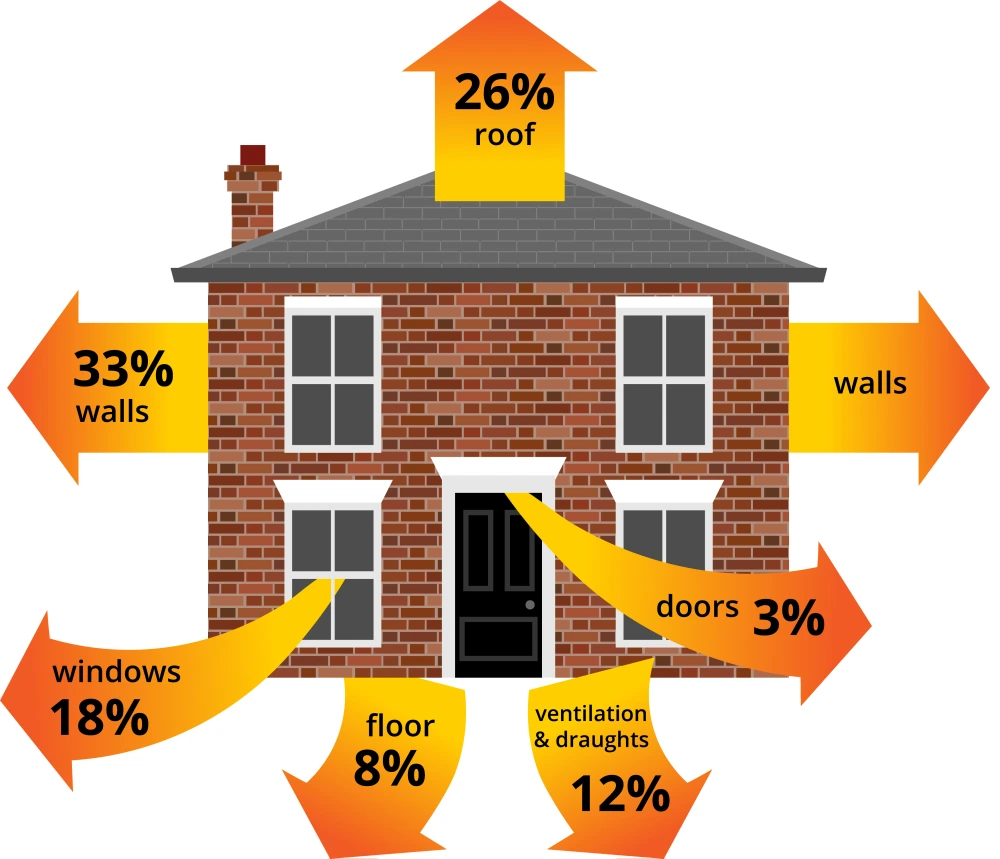 Although a useful guide, these values will vary between different buildings, due to the age, style, shape and size of the building, modifications to the building over time (including insulation measures), location and climate, occupant behaviour and heating patterns. All that said, a lot of heat and money is lost through the roof!
Main objectives of loft insulation
Generally, you are looking to achieve the following objectives:
Reduce heat loss (by conduction) through the upstairs ceiling / loft floor
Reduce heat being lost via draughts through the upstairs ceiling / loft floor. This means improve airtightness.
Manage the risk of condensation.
Insulate safely with respect to plumbing, electrical and ducted services.
Balance how much loft insulation to use with how much storage space you need.
Humidity is all around us
The occupants of a building create humidity, mostly by activities like cooking, washing, and using kitchen appliances. Even breathing (for the average human) releases 0.5-1.0 litre of water per day into the atmosphere. Extractor fans in the kitchen or bathroom help remove excess humidity, but the remainder will be carried throughout the house. Our range of super-quiet low-energy Inventer extractor fans and single-room ventilation fans with heat recovery are great tools to provide a healthier indoor air quality and extract excess humidity.
How humid air gets into your loft
There is a correlation between air temperature and the amount of moisture that air can hold. Warmer air carries more moisture. Since warm air rises and takes its humidity with it, moisture vapour from the living space will eventually end up diffusing through the top floor ceiling into the loft. Diffusion is the process where water vapour passes through the paint, plaster and plasterboard of the ceiling directly into the loft.
This humid air might also enter the loft space via draughts around poorly fitting loft hatches; light fittings or cracks in the ceiling plaster; or anyplace where there is a hole in the ceiling. This highlights the importance of improving airtightness of the ceiling. It is not only to prevent heat loss but also to manage condensation risk.
Cold Ventilated Lofts
Everyone's loft, in the UK or Ireland, may be slightly different but in this article we will look at how to improve a cold ventilated loft; which is a type most commonly found in older buildings.
In a cold ventilated loft space (see Fig. 2), warm humid air rises from the living space below and unintentionally leaks through the ceiling into the loft space above through draughts and also by diffusion. As it is a ventilated space, the air movement safely removes the humid air.
Fig. 2 shows warm humid air rising through the ceiling into the cold loft space above (1). It is important to remove water vapour in the loft to prevent it condensing on cold surfaces like bitumen roofing felts (2) or roof timbers (3) - imagine how a mirror steams up in the bathroom – the roofing felt and timber is the mirror.
A very common feature of ventilated loft spaces is that they have a black bitumen sheet or roof underlay located underneath the tile battens (2). This is the black sheet that you can see between the rafters when you are in the loft. Although very good at keeping out the wind and rain, this also has a very high vapour resistance, which essentially means that water vapour is prevented from passing through it.
This is where that all important ventilation comes in to play. It is important that external (outside) air can freely enter, circulate and exit the loft space. This happens mostly via the ventilation gaps at the eaves (4), but also less commonly via ridge tile vents (5) at the top or airbricks. A well-ventilated cold roof space ensures condensation risks are kept to a minimum.
Building regulations and guidance (BS 5250: 2021 Management of moisture in buildings - Code of practice) recommend the ventilation gap is at least 25mm deep at the eaves and if the roof slope is 35° or less and not wider than 10m eaves-to-eaves, vents on opposite sides should be used.
The optimum size and location of vents should be determined by the size and shape of the loft; large and/or complex roofs might need vents both at high and low levels. Building regulations and guidance (BS 5250: 2021 Management of moisture in buildings - Code of practice) recommend the ventilation gap should be at least 25mm wide to avoid creating pockets of stagnant air. For simple domestic roofs up to 35° and less than 10m from eaves-to-eaves, the 25mm gap should run continuously on two opposite sides. This is typically at the eaves but can be on facing gables. The ventilation gap is simply created by not installing the insulation right up to the tiles or roofing membrane.
If your roof is a complex shape, steeper than 35° or longer than 10m, further information regarding the recommended vent areas for all shapes/sizes of roof and underlay type are provided in BS 5250.
To safely insulate a cold ventilated loft, the loft insulation is installed between (and above) the ceiling joists that make up the loft floor. The insulation stops at the underside of the rafters (see Fig. 3) to maintain the ventilation gap between the insulation and the roof felt. The gap enables external air to easily enter and exit the loft space to remove any moist air before it can condense.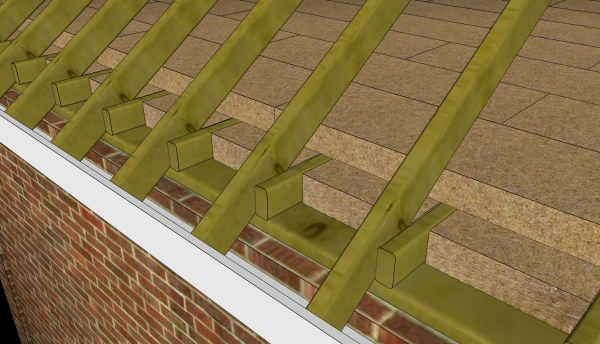 Different approaches
With a cold ventilated loft (Fig. 2), the focus will be on increasing the insulation, maintaining good ventilation and eliminating unwanted draughts across the loft floor area.
Remember, when we are talking about eliminating unwanted draughts, there are two important reasons for this. The first is to prevent heat escaping from the living space below; the second is to reduce the condensation risk caused by warm moist air entering the loft space. The different techniques to prevent draughts and improve the level of airtightness will be explained soon (read on…).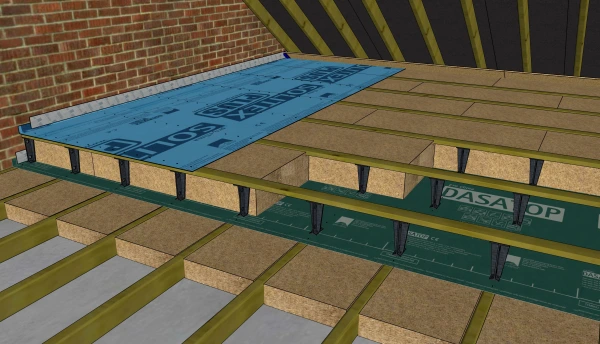 How much insulation is required?
The rate at which heat is lost through a loft (or any other part of a building) is best described using U-values. U-value is a technical term expressed as W/m²K. U-Value states the overall rate of heat loss (in Watts) per square metre (of surface area) per 1 Degree Kelvin (temperature) difference between the inside and outside. The lower the U-Value the slower the rate of heat loss. When we add attic insulation to a loft, we are aiming to reduce its U-value (See Fig. 7).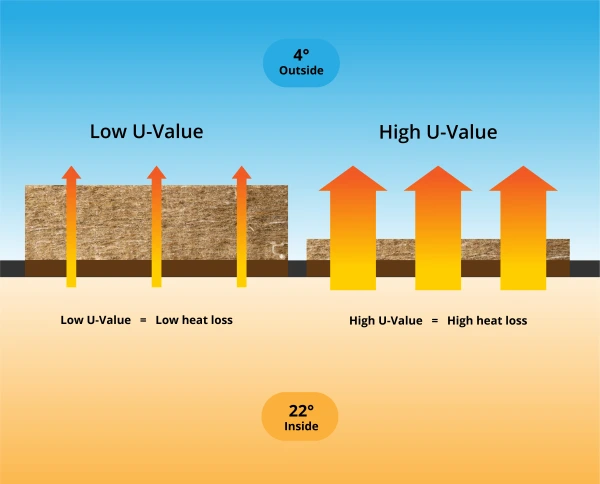 Table 1 – Building regulation required U-Values
| Country | Existing Buildings - Extension | Existing Buildings - Refurbishment |
| --- | --- | --- |
| England | 0.15 W/m²K | 0.16 W/m²K |
| Wales | 0.15 W/m²K | 0.16 W/m²K |
| Scotland | 0.11 W/m²K | 0.15 W/m²K |
| Ireland | 0.16 W/m²K | 0.16 W/m²K |
Table 2 – Amount of loft insulation needed to meet the U-value targets.
Insulation Type
Total between joists
Total above joists
Loft hatch insulation
U-Value

W/m²K

Uninsulated
--
--
--
2.5
Pre-existing insulation*
100mm
--
--
0.39
Thermo Hemp Combi Jute
100mm
140mm
50mm
0.16
100mm
160mm
50mm
0.15
100mm
260mm
50mm
0.11
* It is common for 100mm of loft insulation to already be installed between the joists.
Note the dramatic difference insulation makes; the first 100mm of loft insulation can reduce heat loss by around 85%!
The U-value calculations above account for thermal bridging through the timber joists. To comply with regulation standards, the percentage of timber included in the calculation was 9%. Data in Table 1 and 2 are based on standards at the time of writing this article. Please also consult relevant building regulation documents for further details.
Why use natural insulation to insulate your loft?
We've already discussed the importance of ventilation to prevent condensation from forming in the loft space. Using a natural sustainable insulation such as Thermo Hemp Combi Jute insulation, Thermafleece Cosywool or Gutex Thermoflex in the loft or attic (Fig. 8) actively assists this process. The hygroscopic properties of natural fibres means that the humidity that would otherwise be absorbed by joists and rafters will be temporarily absorbed by the insulation and released again when conditions are right. Natural insulation can absorb and release relatively high quantities of water vapour compared to synthetic fibre insulation without compromising its thermal performance.
By actively regulating humidity within the loft, the hemp-jute, sheeps wool or woodfibre insulation helps prevent moisture becoming trapped and mould formation. Each insulation is also highly mould resistant, Thermo Hemp Combi Jute achieved the highest score of "0" in EN ISO 846:1997 tests, thus contributing to a healthy, safe, and comfortable internal environment.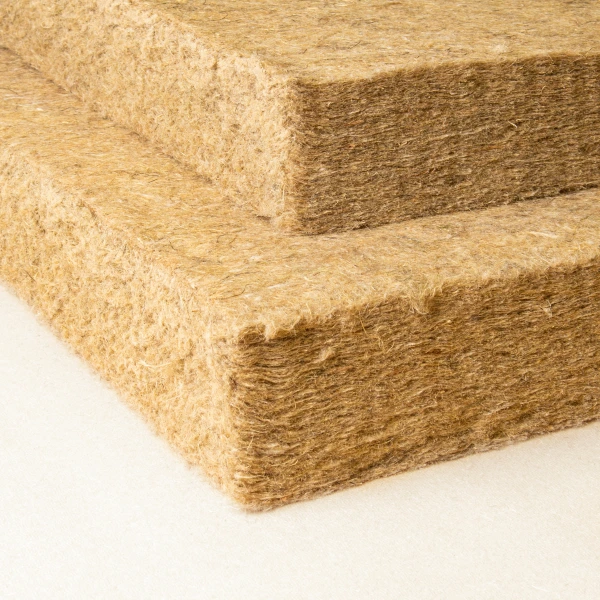 As well as helping to reduce household energy bills and carbon emissions, Thermo Hemp Combi Jute has its own set of ecological credentials, being made from a mixture of sustainably grown hemp (Fig. 8b) and upcycled natural jute fibres and manufactured using 100% renewable energy.
Gutex Thermoflex is also a carbon negative insulation; the trees where the woodfibre came from removed large amounts of CO₂ from the atmosphere as they grew. Since the carbon emitted during manufacture is less than the carbon absorbed by the trees and stored in the wood, Thermoflex actively contributes towards reducing global CO₂.
Thermafleece Cosywool is supplied in packaging that compresses the rolls, the smaller size means the insulation can be transported more efficiently lowering carbon emissions during delivery. Once opened, the rolls spring back into shape and regain their optimal volume and thickness.
The environmental impacts of products are quantified within an Environmental Product Declaration (EPD). They can be downloaded here: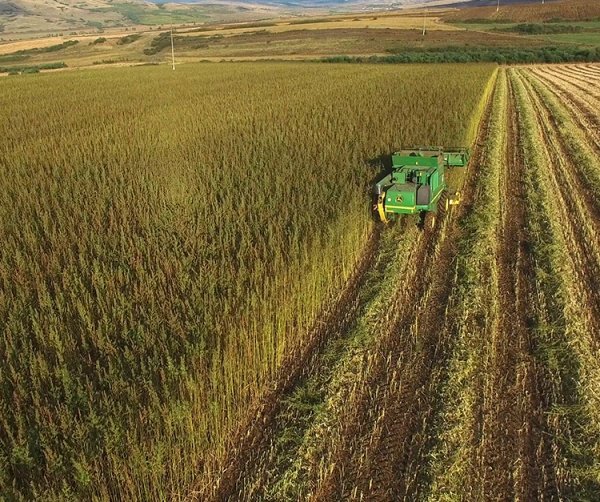 Natural insulation is also totally safe to handle and requires no special equipment or extra precautions to use. It's safe for humans and pets alike! (see Fig. 8c)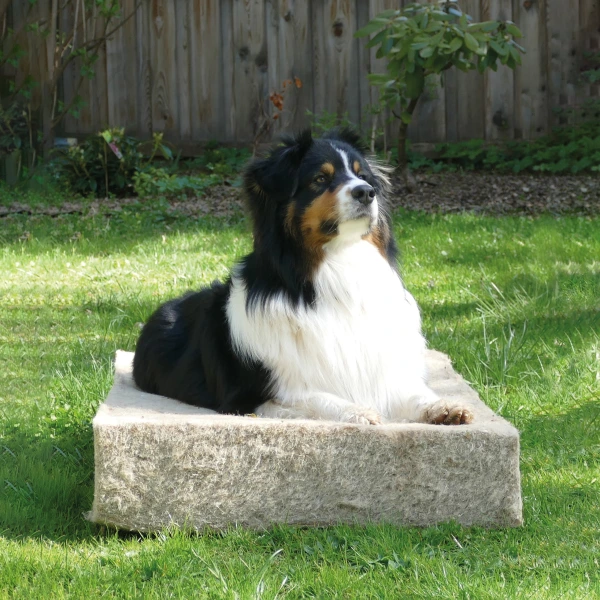 Safety First
Lofts are dusty and may contain hazardous substances (including any old insulation). Get some Personal Protective Equipment (PPE). Dust mask, safety goggles and gloves are recommended.
Make sure the area is well lit. Head torches are useful, as are mobile LED work lights. Make sure you have more than one light, if the battery runs out on your head torch, you need a spare working torch to safely exit the loft!
Old insulation may contain hazardous substances. If it is to be removed, do so carefully. It is not generally considered a routine DIY task and may be a job for a specialist. Wear good quality PPE including goggles, gloves and a good mask (with FFP2 or FFP3 filter quality). Always ensure that the loft insulation is disposed of properly – if unsure contact your local council authority for safe disposal.
Note the layout of joists, their depth and spacing. Are they strong enough to support one or more persons working in the loft? Part of your PPE could be some planks or support boards to distribute your weight when working – this can reduce the risk of cracks appearing in the plaster below. These also help prevent you from putting your foot through the ceiling!
Check for dangerous substances, for instance, asbestos coated piping. If present, contact your local council authority and arrange for it to be taken away safely. Do not disturb it!
Check for presence of vermin – it should be obvious! Take appropriate action before laying new insulation.
Make sure you can safely access all areas requiring extra insulation. Some areas are difficult to get too, such as above dormer windows or smaller annex roofs.
Clear the working area – have a clear out if necessary.
Note the location of any services such as cables, ventilation ducting and plumbing. Make a quick sketch or take a photo for reference and keep it in a safe place so a plumber or electrician can refer to it when needed for future maintenance. Once you have laid extra insulation, some of these services could become buried within the loft insulation and prove hard to find. Any high power cables such as those for electric showers, heaters or solar PV must be re-routed above the insulation and put inside appropriate trunking wherever it passes through insulation to prevent overheating. Consult an electrician for guidance.
Check that the roof is weatherproof. You'd be aware of a major leak, but small leaks can be harder to detect. Get this sorted before doing anything else.
Also consider how people may move around in the loft space. Decide which areas need to be accessed and where items will be stored. Plan for the installation of walkways or flooring to allow access for maintenance and inspection of all areas including those not used for storage.
Walkways and loft flooring should be designed together with the insulation system so that:
There is a minimum clearance of 50 mm between the top of the insulation/breather membrane (if used on top) and the underside of the flooring to ensure a clear ventilation space
The edges of the flooring are open and don't go right up to the side walls so that the ventilation underneath is not restricted
Eaves ventilation and the free movement of air in the loft is not restricted by the flooring or anything stored on top of it.
Loft insulation: things to bear in mind
Sequencing is important here. And starting points will also vary from loft to loft. There may currently be no insulation at all (either there never has been any insulation or it's been cleared away). More likely some insulation will already be in place, although it may appear scrappy, inconsistently spread or with uneven depth. This can be tidied up and inspected, if it now provides continuous even insulation, it can remain in-situ. New insulation can be simply laid over the top of it. We might not like the existing loft insulation, but unnecessarily discarding it means it will end up in a landfill site.
If you are using a mix of the original insulation and new natural insulation, we recommend the natural insulation is installed on top so it covers up the original insulation. This will help prevent any potential moisture issues with the synthetic insulation.
The vents that supply the loft with free moving air can be an entry point for birds, bats and large insects. Using a 4mm mesh over the vents will prevent entry and not restrict the flow of air. The vents must always remain free flowing for the lifetime of the building.
At this point it is useful to return to our basic principles we discussed earlier:
Reduce heat loss by conduction through the upstairs ceiling / loft floor
Reduce heat loss via draughts through the upstairs ceiling / loft floor. This means improve airtightness.
Manage the risk of condensation.
Insulate safely with respect to plumbing, electrical and ducted services
Balance how much insulation to use with how much storage space you need
Before insulating anything, we first need to think about principles 2 and 3: reducing heat loss via draughts and managing the risk of condensation. This is particularly relevant in older properties. There may be a lot of draughts carrying warmth and moisture (not to mention your cash!) into the loft space via loft hatches, recessed light fittings, cable and pipe penetrations as well through the ceiling plaster itself. Improved airtightness reduces condensation in the loft and will also help save energy, CO₂ and money. It will also maximise the performance of the new loft insulation.
How to improve the airtightness of a loft floor
In terms of best practice - installing an airtight vapour control membrane like Pro Clima Dasatop (or Intello Plus) across the loft floor area will eliminate draughts and safely control the amount of water vapour entering the loft. This is a great solution for older ventilated loft types with non-breathable roofing felt.
Pro Clima's Dasatop and Intello Plus are both intelligent airtight membranes which means their breathability varies based on the relative humidity levels in the loft. This ensures the highest level of protection from condensation and mould and allows the whole roof to benefit from optimal thermal insulation performance and moisture management all year round.
Dasatop has the added advantage of being more robust. It is not easily damaged by foot traffic, rough timbers or debris you might find in your loft.
Fig. 10 shows an example of Dasatop being used. Note how it is draped between each set of joists and all overlaps are taped. Thin strips of hardboard, wooden lath or 3mm thick MDF have been added at the bottom of the joists and stapled every 100-150mm to hold the membrane tight at the corners. These strips make it easy to pull the membrane taut (without tearing it). Any penetrations through the loft floor also penetrate the membrane, so these should also be taped and sealed. Taping the membrane to the perimeter walls and around the loft hatch is recommended to create a higher level of airtightness and draught prevention . Use Pro Clima Contega Solido SL airtight tape or Orcon F Airtight Glue for sealing to masonry (E.g. Fig. 13 h).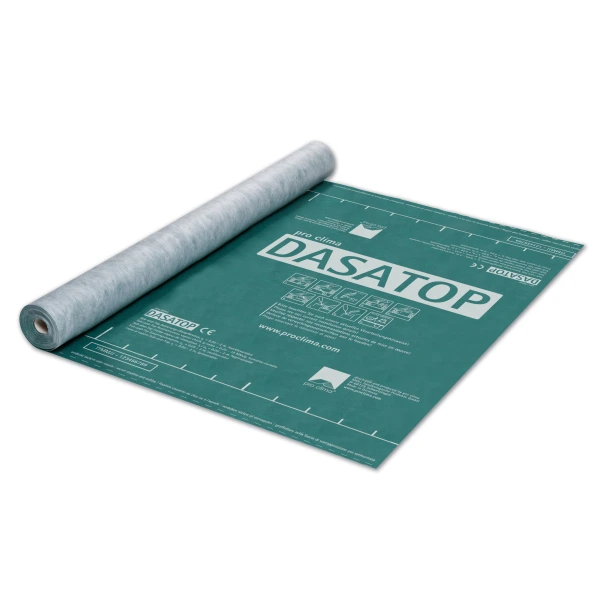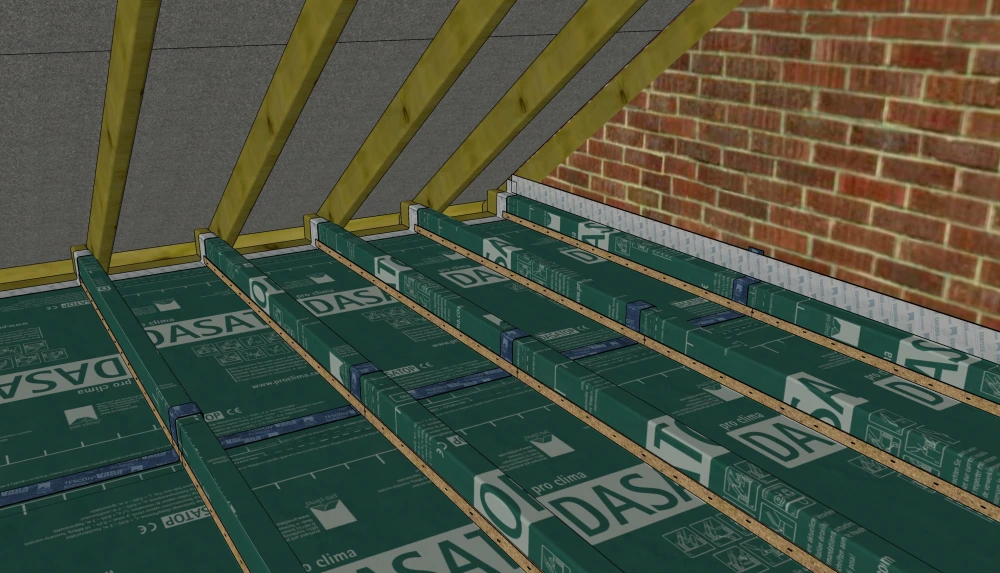 This does require a clear loft space with all insulation moved out of the way first. This may not be practical in some cases. As an alternative, Pro Clima Intello Plus membrane could be installed instead from below and affixed to the underside of the ceiling/loft floor joists between the plasterboard and joists. This is only likely to be practical if the ceilings below are being replaced at the same time but can provide a superior outcome because the membrane can be more easily sealed to the walls.
If the existing loft insulation is ok and it fully fills all the space between the joists, you can choose to leave that in place and install the Dasatop membrane flat over the joists (see Fig. 11). You can then apply a second twice-as-thick layer, over the top. The "1/3 - 2/3 rule" applies here. This states that the internal vapour control membrane must be no more than 1/3 of the way into the insulation on the "warm side". So, if there is 100mm of insulation between the joists, then the Dasatop, then 200mm of insulation (with the same thermal conductivity) on top of that, the 1/3 - 2/3 rule is satisfied.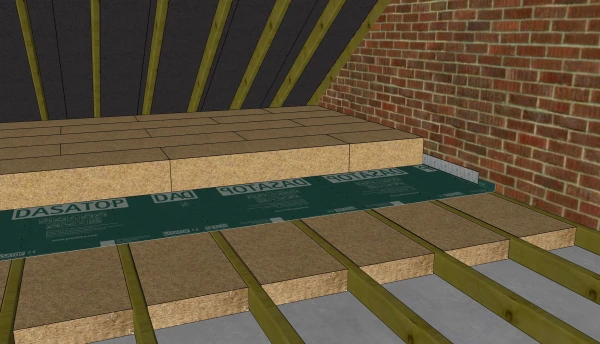 If the Dasatop is installed flat over the Joists like in Fig. 11, airtight sealing of the perimeter at the Eaves cannot be done like in Fig. 10. It is generally easier to get a timber board, cut notches for the joists and then install that up against the rafters (see Fig. 12 and Fig. 13 a). You can then seal the board to the joists, gable wall, and timber wall plate with Aerosana Visconn Fibre (Fig 13 b) . It is then straightforward to tape the Dasatop to the board (see Fig. 13 d-f).
As there is very little space to work in at the eaves, taping the Dasatop to the board with Contega Solido SL is much easier if you apply the tape to the edge of the membrane in advance (see Fig. 13 g). Cut the Dasatop to length and lay it out on a flat surface (E.g. a hard floor somewhere else in the house). As Solido SL has two release strips, you can remove the narrower (25mm) release strip and then apply that part of the tape to the edge of the Dasatop. When you go on to install this membrane in the loft, you now just need to remove one release strip and stick that part of the tape to the board. This is easier because you are taping onto a single hard surface rather than an unsupported membrane and a board at the same time.
Remember, when taping anything, always use a Pressfix to press the tape onto the surfaces and gain maximum adhesion.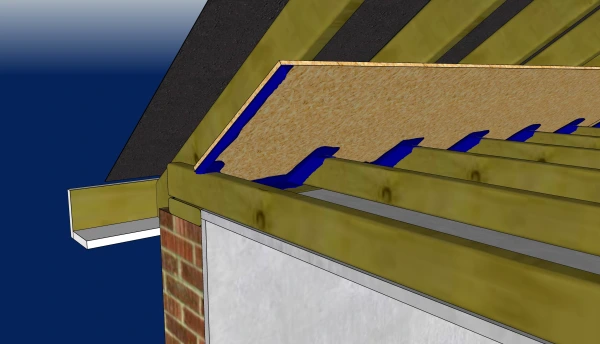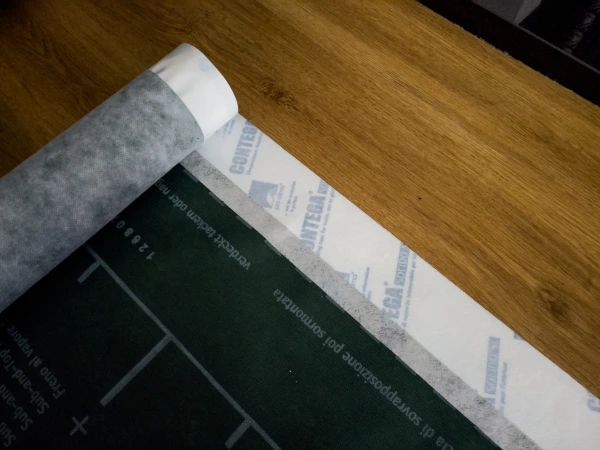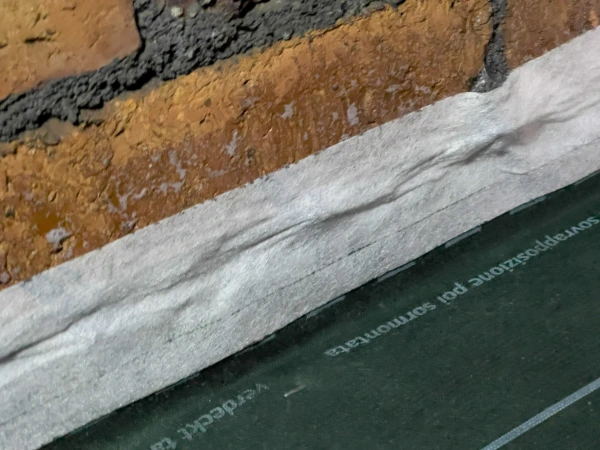 Do I need a breather membrane over the insulation?
A windtight breather membrane installed over the top of your insulation is a great option if time and budget allows. Even without this addition, your loft will still benefit from improved thermal performance especially with the addition of Pro Clima Dasatop and an upgraded continuous layer of tidy insulation.
However, to go the extra mile and maximise thermal performance, a membrane such as Pro Clima Solitex Plus can be installed over the top of the insulation to prevent any cold air getting into, under or through the insulation at any point (see Fig. 14). This windproof additional protective layer prevents potential "wind-washing" or thermal bypass that can lower the effectiveness of the insulation. Imagine wearing a thick wooly jumper, if the wind blows, you don't feel warm at all. But, if you then put on a Gore-Tex jacket, you no longer feel the wind and are lovely and warm!
When installing Solitex Plus over the top, it is important to have something to staple the membrane onto. The structure needed also doubles as a support for loft access walkways or flooring, so is very important for a safe and usable loft. With 200mm of insulation over the joists, the easiest method (as seen in Fig. 15) is to use 175mm high loft extender legs (e.g. LoftLegs) with 50mm x 25mm timber on top. This creates a 200mm high series of cross-joists at the same height as the second layer of insulation (Fig 15 e-f). Any decking/flooring boards being used require a 50mm ventilation gap between the Solitex Plus and the board, so battens are then fixed on top of the Solitex Plus to create the gap. (see Fig. 15 h). The flooring must be sufficiently far away from the walls to have adequate ventilation underneath.
The Solitex Plus should be sealed to the gable walls with Contega Solido SL airtight tape or Orcon F airtight sealant.
As mentioned earlier, at the eaves, we recommend installing a timber board (with notches for the joists) up against the rafters (see Figs. 12, 13, 15 a-c). This can then be painted with Aerosana Visconn to make it airtight and then sealed to the joists with Aerosana Visconn Fibre (see Fig 15 d). The board provides a convenient flat surface onto which Solitex Plus can be easily taped with Solido SL and sealed windtight (Fig 15 f). It also maintains the all-important ventilation gap between tiles and insulation. Being a solid board, the insulation can be installed right up to it to maximise its effectiveness. The board also stops any movement of the insulation over time that could affect the ventilation.
Taping two membranes at the eaves (without a board) is not usually practical unless the roof is removed and you have full access from outside.
If you choose not to install Solitex Plus over the entire loft, the most exposed area for wind to penetrate is at the eaves, so one strip of Solitex Plus taped to the board and wall (like in Fig. 14) to just cover the insulation at the eaves would be a good compromise.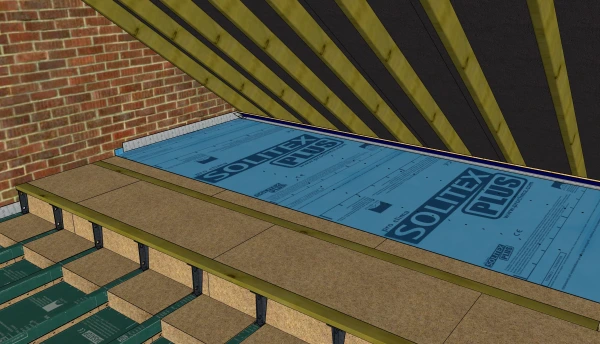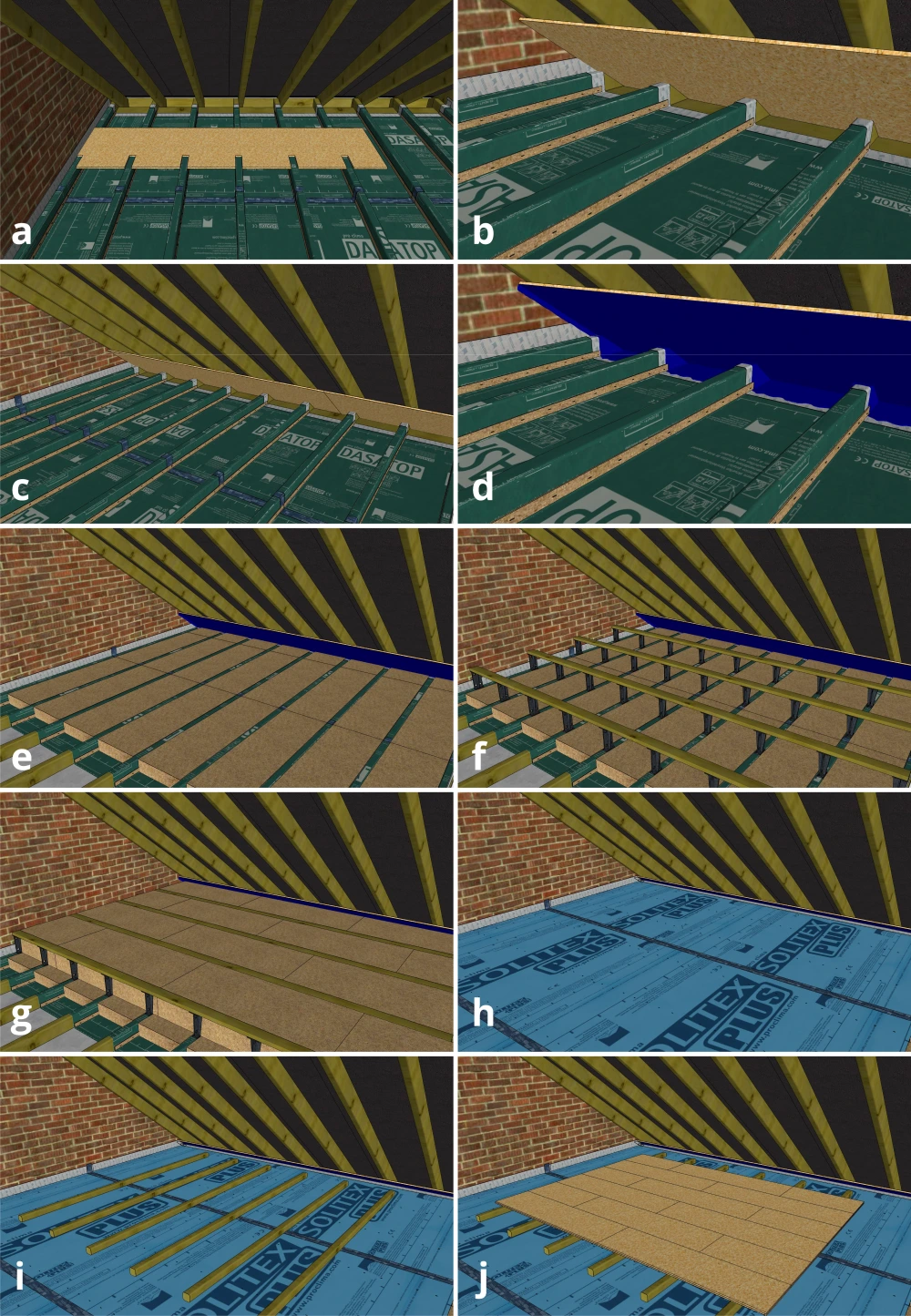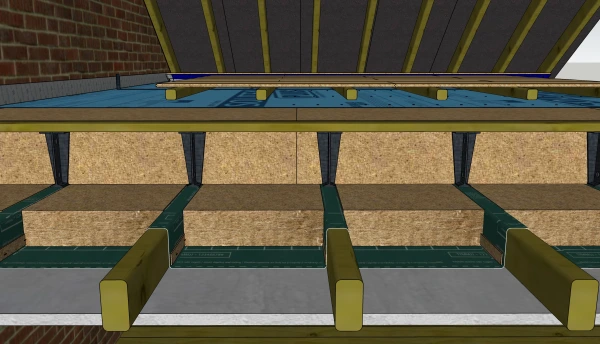 Instead of using lightweight loft extender legs to create the cross-joists, you can install additional 200mm x 44mm joists (600mm centres) at 90 degrees on top of the existing joists (if you can get them into the loft!). This method adds a lot of additional weight so you must consult with a structural engineer or professional roofer before considering this option.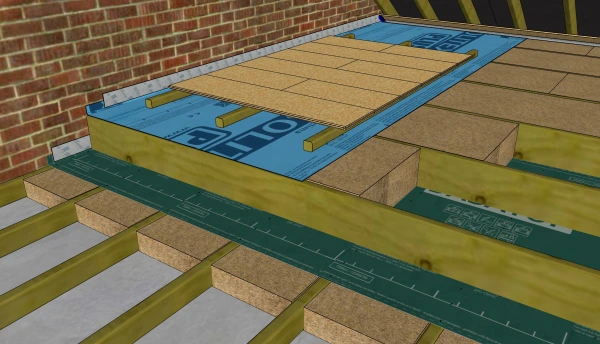 Simpler options to improve airtightness
If you feel that using an airtight vapour control membrane would be too difficult to implement, don't worry - while it may not be as effective as above, there are other things you can do that basically tackle each point of "air leakage" individually.
Downlights
Recessed downlights are a common cause of draughts. They can act as multiple chimneys for heat loss through the ceiling / loft floor. They can be made draught free with or without a membrane on the loft floor.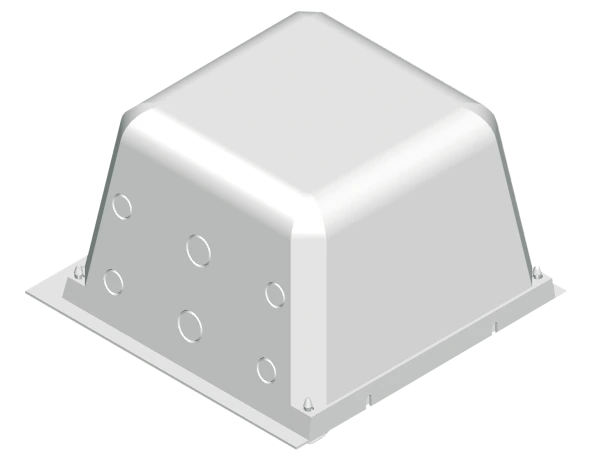 Covering recessed downlights is a good idea anyway. Even if the insulation to be used is Euro Fire Class A1 material, the downlights can still overheat. For a good solution, consider using Optime Airtight Downlight Protectors (Fig. 14) which provide an airtight protective housing for downlights. These will prevent air leakage, condensation and heat loss when installing light fittings into a loft floor/ceiling. They can be taped directly to the airtight membrane (if one is installed) or taped to the back of the plasterboard on the loft floor (Fig. 15). They can then be insulated over.
If the light bulbs are not LED lights and are more than 50w, then use F-Capped (fire rated) covers made of fire-resistant material. These can still improve airtightness and prevent overheating of the electrical components. We would always recommend switching all your bulbs to low-energy and cool-running LEDs.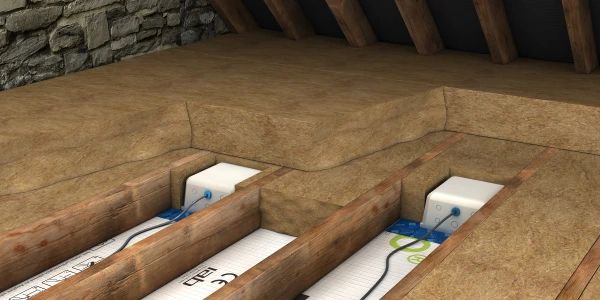 Loft hatches
Loft hatches can also be a significant source of heat-loss and moisture entering the loft space - a result of them being poorly fitted, draughty and uninsulated. Consider installing a certified airtight, insulated loft hatch, such as a Wellhöfer airtight loft hatch (Fig. 18 and Fig. 19).
These are available in two formats: with or without an access ladder. If you decide to stick with your existing loft hatch, apply draughtproofing measures to improve the airtightness of the hatch. Make sure the hatch is also insulated.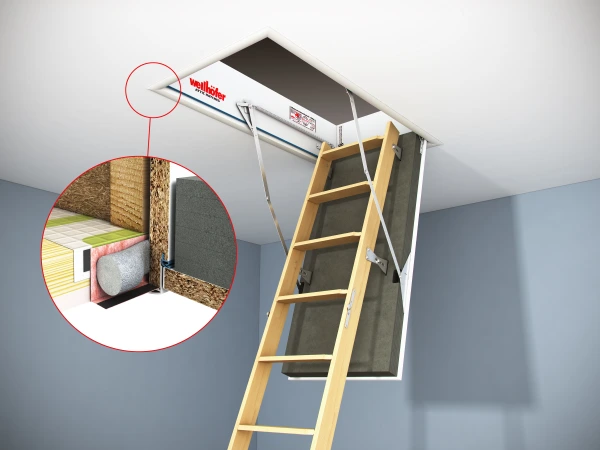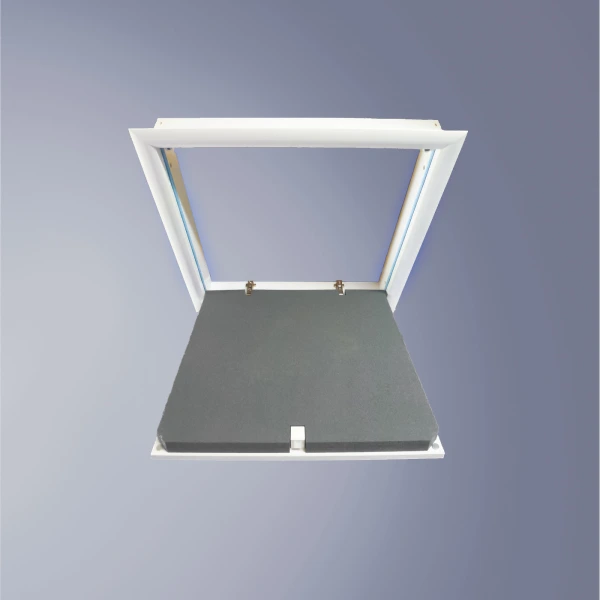 Pipe and cable penetrations
Warm air may also escape into the loft space via numerous cable and pipe penetrations through the loft floor. These penetrations might include pipework to and from water storage tanks, boilers, solar hot water heating systems, wiring for lighting, boilers, roof top solar PV, security and communication systems. All these penetrations combined effectively pepper the loft floor with holes through which warm humid air will escape into the loft.
These numerous holes can be difficult to deal with because they are often inaccessible or fiddly due to their shape or arrangement. Airtight grommets can make sealing around pipes and cables much easier. They can be installed onto membranes (Fig. 20, 21, 22) or plasterboard directly (if no membrane is being used).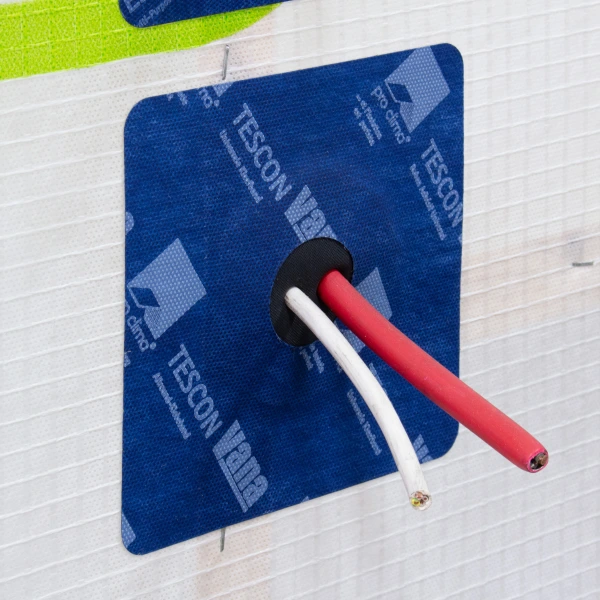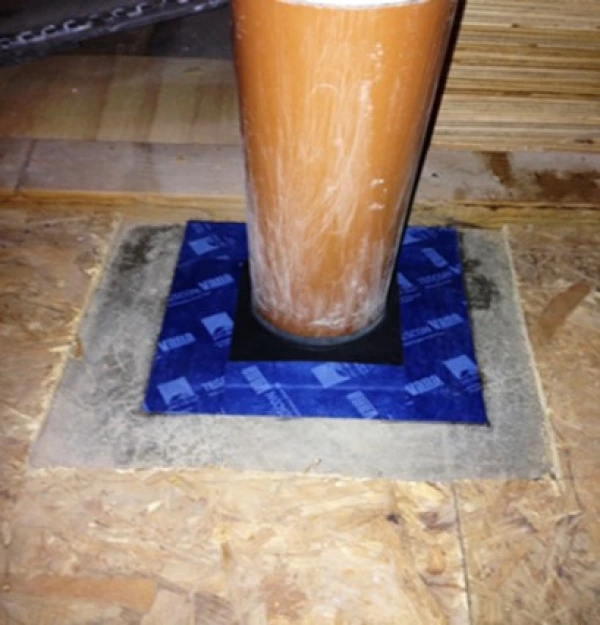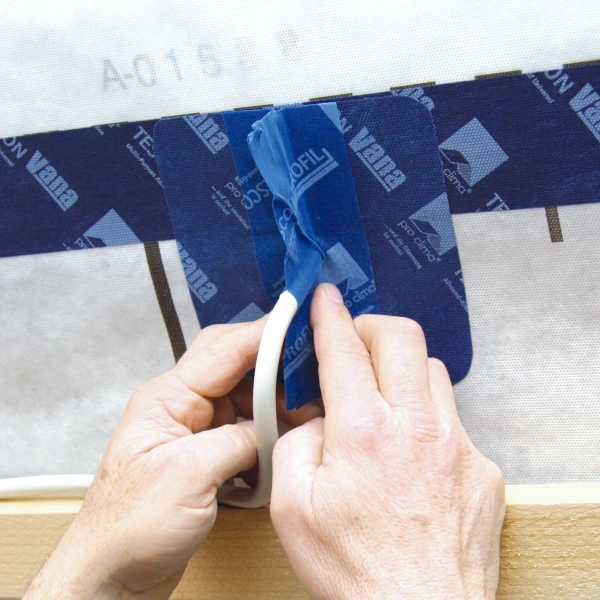 Pro Clima Kaflex (Fig. 20) and Roflex grommets (Fig. 21) are EPDM rubber gaskets that simply slide onto the pipe/cable (before it is connected) and then adhered into place. These are best for newbuild projects or retrofit projects where pipes and cables can be easily disconnected and reconnected later by a qualified tradesperson.
If fitting a Kaflex or Roflex grommet isn't practical for whatever reason, a Pro Clima Kaflex Post retrofit grommet (Fig. 22) can be used on pipes and cables up to 20mm instead. This is made from a patch of tape that has been pre-formed into the ideal shape for sticking around existing pipes and cables. It wraps around the pipe rather than sliding down on to it, so works on any already-connected pipe/cable.
The other alternative to sealing pipes and cables is to apply airtight tapes around the pipe or cable at the point it penetrates the loft floor (or ceiling below). A flexible, stretchy and mouldable tape such as Pro Clima Extoseal Magov (Fig. 23, 24) is great for anything bigger than 20mm and for smaller things, Tescon No.1 flexible airtight tape can be used. Although not particular elegant looking, the tapes can be overlayed and stretched to ensure no air leakage occurs. You can also use Aerosana Visconn Fleece to create a patch/grommet then paint Aerosana Visconn onto the area around the pipe/cable, then apply the patch, then paint over it again with more Aerosana Visconn. This technique is illustrated in the installation guide for Aerosana Visconn Fleece.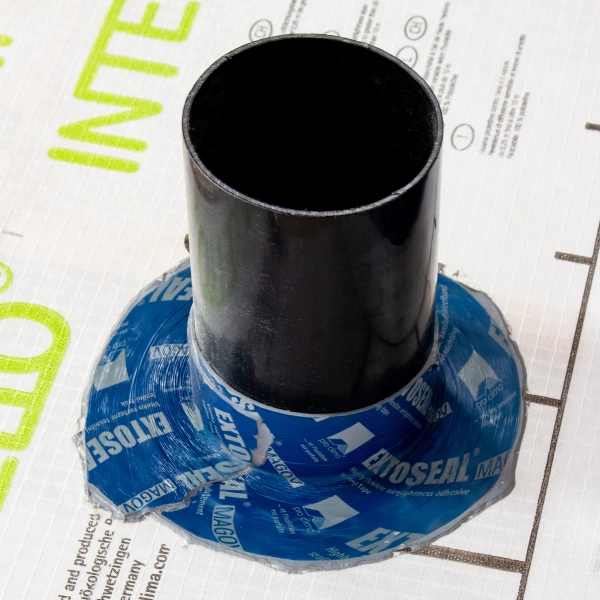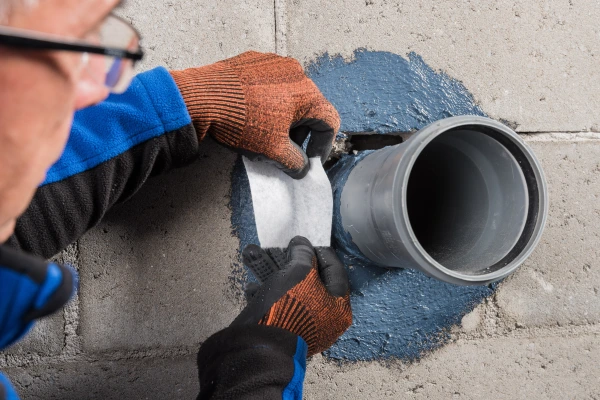 Installing loft insulation
Once airtightness measures have been incorporated, we can focus on the 1st principle: installing the attic insulation and reducing heat being lost by conduction through the upstairs ceiling / loft floor. Once we have a clear working space, place the first layer of insulation between the joists across the entire loft floor area. Make sure that all joints between separate insulation mats are tightly butted to avoid air gaps. Think continuity. For best results additional layers of insulation should be placed in a position that is perpendicular to the first layer (Fig. 25). Alternating the loft insulation direction in this way helps prevent heat escaping through gaps that can occur if layers of insulation are placed directly on top of one another and laid in the same direction.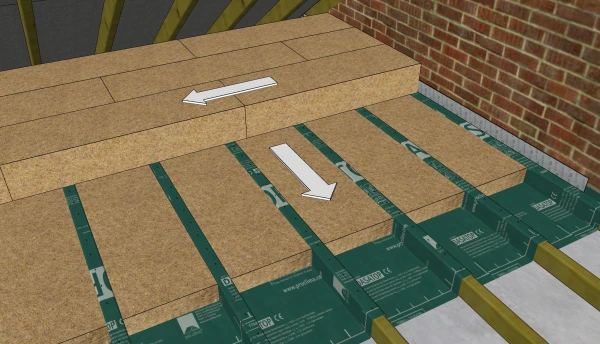 When laying the loft insulation, we need to be thinking about the requirement for ventilation. This relates strongly to our 3rd principle of managing condensation risk. For cold ventilated loft spaces, be sure to maintain the ventilation at the eaves. This is ensured by maintaining a minimum 25mm gap between the insulation and the membrane. Better still – terminate the loft insulation at the point where it meets the rafters (Fig. 26). Do not cover up or block the eaves with insulation; doing so will starve the loft space of ventilation.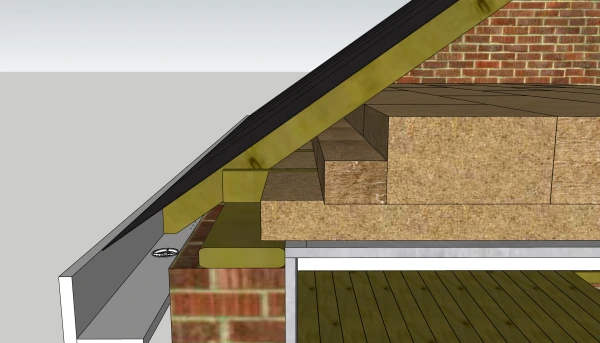 In Fig. 26, keep an eye out for any thermal bridges. Right at the eaves, the second layer of insulation does not extend as far as the first layer so, depending on the wall thickness and style of your roof, there is a potential thermal bridge right in the corner (See Fig. 26b, yellow arrows). If this might occur in your loft, it can be reduced by adding a thin layer of low-thermal-conductivity insulation above the timber on top of the wall (See Fig. 26b blue rectangle). Aerogel insulation would be suitable here and thin enough to prevent any restriction to the air flow.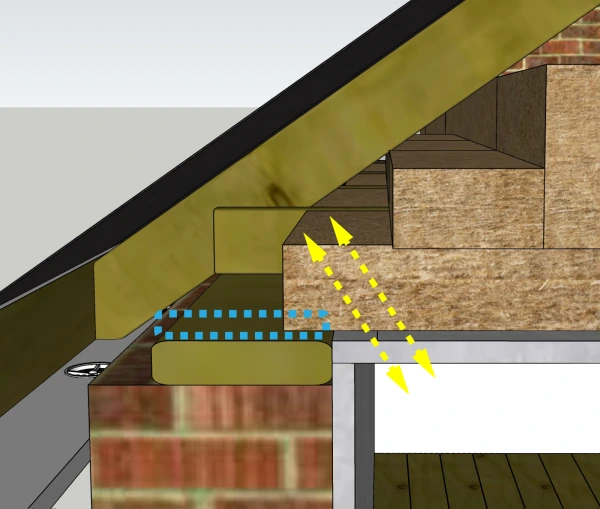 DOs and DON'Ts
In some ways laying the loft insulation is a straightforward process, but there are some important DOs and DON'Ts!
Make sure to lift high amperage cables that supply appliances such as storage heaters, immersion heaters, showers, cookers and solar PV above the insulation. This is because there is a small risk of overheating if these cables are buried within the insulation. If this isn't possible or looks difficult, seek advice from a qualified electrician. It is also important to tread carefully around plumbing works – we don't want any plumbing emergencies! This relates to our 4th principle: insulating safely with respect to plumbing, electrical and ducted services.
Ensure that you surround any hot flue pipes or chimneys with 150mm of A1 fire rated material. Do not lay the Thermo Hemp Combi Jute insulation within 150mm of a working flue or chimney. Please consult a specialist for advice.
Do not insulate underneath water tanks. Insulating the loft will make the loft space much colder during those dark winter nights meaning water tanks and associated pipework are more prone to freezing. By not insulating underneath water tanks (see Fig. 27), some heat from the living space below can warm the water and offset the risk of freezing. Make sure the top and sides of the water tank are also insulated and that connecting pipes are lagged. The added loft insulation can connect with the lagging around the sides of the tank.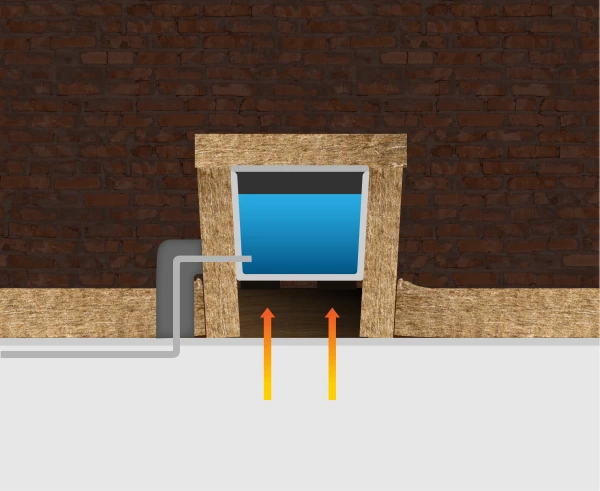 A common question asked about loft insulation is, can it be squashed under boxes of junk and suitcases? The answer is no. If you are also wanting to use the loft space for storage, do not squash the insulation - instead incorporate some raised decking to provide a base for storage (E.g. Fig. 15a-h). There are a couple of things to bear in mind when creating a storage platform. This is our 5th principle: balancing the need for increasing levels of insulation, whilst maintaining the need for storage space.
The decking material (plywood, for example) may be less breathable (more vapour resistant) compared to the more breathable (vapour open) natural insulation below. This could act to trap moisture below the decking layer and lead to mould growth (see Fig. 28).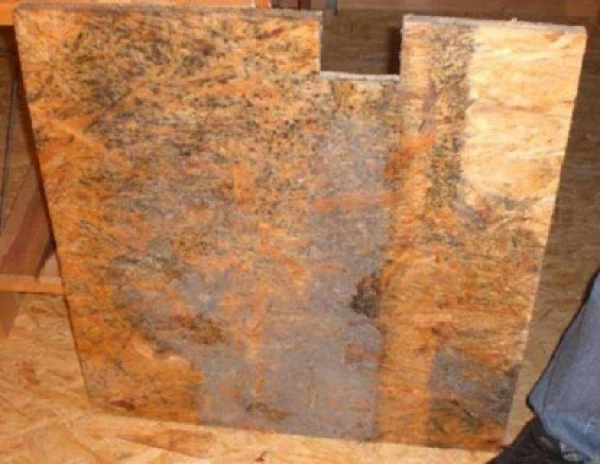 This is another good reason for installing a membrane (such as Pro Clima Dasatop) across the loft floor to reduce the amount of water vapour diffusing into the loft. If a full coverage membrane isn't a practical option, consider installing one at least below the raised decking area. This will at least enable some localised moisture control beneath your storage area.
The storage decking layer needs to be sufficiently raised (to accommodate the insulation depth below) and supported either by added timbers or specialist lightweight loft legs/stilts, as shown in Fig. 29. Both options ensure that an adequate depth of loft insulation is incorporated below the storage platform.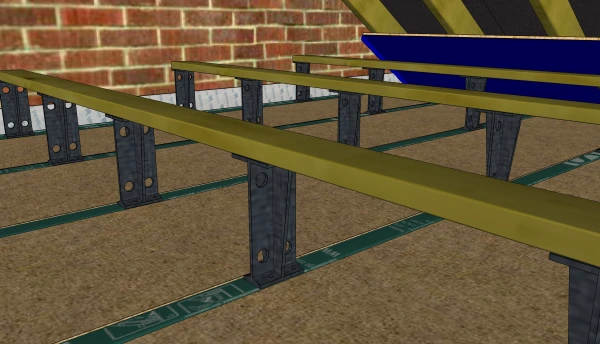 Another option is to use a rigid Tongue and Groove insulation board, such as Gutex Multitherm or Gutex Ultratherm. Flexible insulation goes between the joists, then a layer of 12mm chipboard or plywood followed by Pro Clima Dasatop on top. The wood fibre boards go on top of the Dasatop and are finished with another layer of chipboard or plywood decking – as shown in Fig. 30.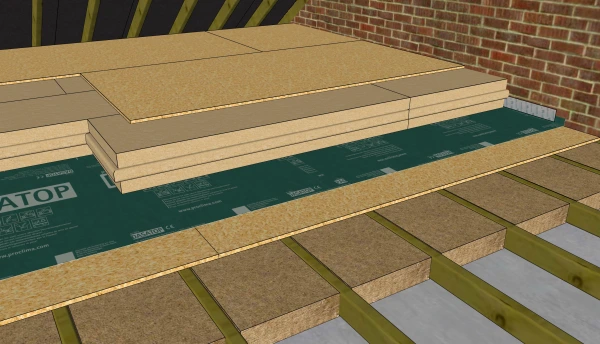 Enjoy the benefits
With your newly insulated loft you can now sit back and enjoy the benefits. Heat lost via both conduction and draughts through the upstairs ceiling / loft floor is massively reduced. This has been achieved in a manner that keeps the risk of condensation to a minimum. It has also been done safely with respect to plumbing, electrical and ducted services. And you'll have somewhere safe to store life's baggage. Your heating bills will shrink! You will save energy. And your carbon footprint will be smaller. You will be happier.
Blog author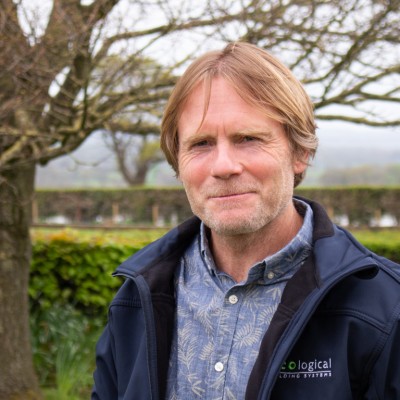 Dave Judd
Technical Specification Advisor (BSc Hons, MSc)
Dave has extensive experience with energy efficiency retrofits and is well acquainted with the "fabric first" principles of integrating airtightness and insulation in both new-build and existing buildings. He has also worked within the domestic renewable energy sector, with the main emphasis on solar PV, solar thermal and biomass systems. He has a Degree in Environmental Science and an MSc in Architecture: Advanced Environment & Energy Studies and recently qualified as a Certified Passive House Tradesperson with the Passive House Institute. Outside of work, Dave enjoys trail running and cycling, growing vegetables and being sociable.